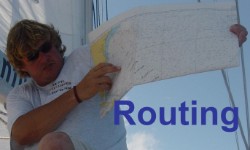 Routing
If you are on passage to an unfamiliar part of the world and would like to know a detailed summary of the conditions to be expected, with recommendations on the best route to take for you, then I can help.
Previous examples range from advising on a trip from Qingdao in NE China to San Francisco and less formal ones for voyages from St Mawes to L'Aber Wrac'h and Plymouth to Fowey.
There is no upper or lower limit to the voyage length - if you would like an experienced and sympathetic eye to look over it for you and help with the planning, then just call.